Erawan Shrine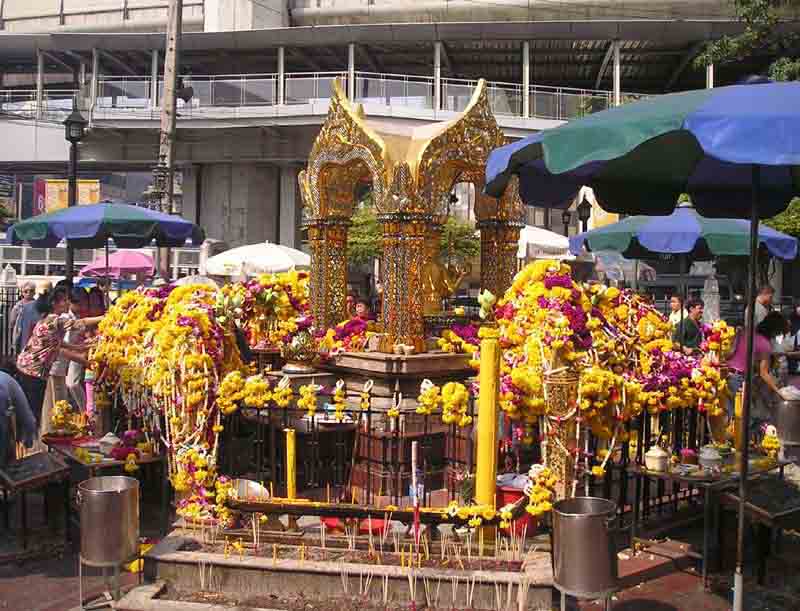 Brahma, Erawan Shrine
Bangkok
Background
In 1951, Police General Phao Sriyanont commissioned the construction of the Grand Hyatt Erawan Hotel at the Ratchaprasong Intersection in order to accommodate government visitors from overseas.  It is said that a series of accidents occurred during the initial stage of the construction.
When the construction was nearly completed in late 1956, the Syndicate of Thai Hotels and tourists Enterprises Limited, the management of the hotel, requested Rear Admiral Luang Suvichanpat, Royal Thai Navy Chief Medical Officer, who was an expert in astrology, to find an auspicious time for the hotel's grand opening.  Rear Admiral Luang Suvichanpat advised that the accidents happened because no ceremony was conducted to tell sacred beings that dwelled in the area about the construction.
Moreover, the hotel's foundation stone laying ceremony was not perform at the right time.  "Erawan" is considered a sacred name since it is the name of Indra's elephant; therefore, it was necessary to make offerings in a proper manner.  To make things right, they needed to seek blessings from Brahma (Phra Phrom) to ward off all mishaps and immediately build the Erawan Shrine where Brahma is housed after the hotel's construction was completed.  A spirit house must also be set up inside the hotel.
BeIief
The Erawan Shrine is a sacred shrine and is respected by Thais and foreigners.  Each day, countless followers travel to the shrine to make offerings.  Many tourists arrange a visit specifically to the shrine.  Besides having peace of mind and being loved by others, people pray to the shrine for their wishes to come true.  Once their prayers are answered, some will arrange a Menora performance (Lakhon Chatri) or Thai classical dance before Brahma while others offer carved wooden elephants in return.  Seeking blessing, people offer flower garlands with 7 colors and about 4 meters in length to Brahma, paste gold leaves on his elephants and sprinkle holy water onto themselves for good luck.  Praying to Brahma is believed to boost mental and physical strength. In fact, every believer of every religion shall give love to each other before expecting that others love them, and shall also love all things that call for pure love.
How to get there
The Erawan Shrine is located on Rama 1 Road.  Since the BTS (Sky Train) is usually one of the first forms of transportation people explore, just get off the BTS at the Chit Lom stop.  It's a very short walk back from the station to the street intersection and you'll find the Erawan Shrine on the corner.