Temples In Bangkok Overview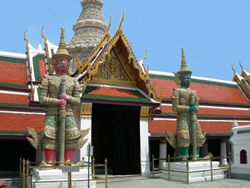 An Overview of Temples in Bangkok
Before you begin your Bangkok tours, better learn about the most common phrases in Thailand.  Showing respect is the main key in hitting a good note in whatever place you wish to visit.  Giving respect to another person in Thailand is done by placing your hands together in a prayer like gesture.  The tips of your fingers should be placed below your chin.  This graceful pose is called Wai which should be paired off with the most basic greetings in any language in this case it is hello in Thai which is Sah-wah-dee".  Unless you are a monk or part of the Thai royal clan, this is how one shows respect for the elderly.
Your holiday in Bangkok will not be complete without a visit to the famous temples in Bangkok which are locally known as "Wat".  Some visitors to Bangkok often favor those temples which are part of the must-see list.  After all, it is wiser to go with what most tourists recommend since it is their first hand experience.  Some of these temples can be small while others take your breath away with their impressive stature.  Staring at these various temples can make you wonder how they were made and what history lies hidden in these structures of the past.
Dressing up properly means to keep your legs and shoulders covered.  This is the only acceptable way to be permitted to take your tour of each temple.  To gauge the importance of a temple one has to look into the Thai currency since most highly revered temples are depicted on Thai coins.  One of the most highly featured of Bangkok's temple has got to be Wat Arun or the Temple of Dawn.  It was name as such because the best way to see its full glory is at dawn.
If you have seen a photo of a temple in Bangkok before, there's a good chance it was the Temple of the Emerald Buddha (Wat Phra Kaew).  It is forbidden to take photos of the actual Buddha, so it is best to buy a postcard as a souvenir.  You can however keep the images of this world famous Buddha in your mind as a memento of your Travel to Thailand.  Carved from a single block of jade, the Emerald Buddha is believed to be an important figure for devotees of Buddha.  It is a festive and special occasion when the King of Thailand changes the costume of Buddha to commemorate specific seasons like summer, winter and rainy season.
The biggest Buddha in Thailand is housed in Wat Pho (Temple of the Reclining Buddha).  It is a surreal feeling once you try to capture the images of the Reclining Buddha in your camera.  It is also in Wat Pho were you can have your hour or so of massage with one of the highly respected Thai masseurs trained in the massage school at this very temple.  If you want to learn how to massage the Thai way, then enrolling in a short course will do the trick for you unless you opt to stay longer in Bangkok and attend a longer course.
Marble, when use in any architectural structure, can be a magnificent two dimensional image to view.  This is how the MarbleTemple (Wat Benchamabophit) appears to visitors to this sacred temple.  This temple is said to be more modern than most of the Thai temples because of its mainly European inspired design made out of white Italian marble.  The Thai religious architectural influences still remain though in this temple.  The Marble temple is a good place to watch the procession of merry makers from 6 to 7 in the morning when celebrations for the Festival of Visakha Bucha is at its peak during the month of May.  It is an awesome view to watch the pilgrims dance with their flickering candles.
The Temple of the Great Relic (Wat Mahathat Yuwarajarangsarit or Wat Mahathat) is not as beautiful as the other Bangkok temples but it plays a vital role in the spiritual formation of Buddhism for monks in training.  In this place stands the Institute of higher learning founded in 1887.  Vipasanna meditation is also practiced on the grounds of this temple.  In the adjacent streets, one can purchase amulets and all kinds of good luck charms.
Another charmer is Bangkok's tallest vantage point; Temple of the Golden Mount (Wat Saket).  This is the location for the highly celebrated Loy Krathong festival.  Climbing the steps leading to the top may pose a challenge for those who dislike climbing hundreds of stairs.  Once you reach the end of the climb the spectacular view is all worth the extra effort.  If you are visiting Bangkok during October or mid-November you will definitely see the carnival like atmosphere in this temple since they decorate and wrap it in a striking red color.  Do not forget to bring an extra shirt and a bottle of water since it gets hotter when you ascend this temple.
The best is yet to come on your Thai travel when you have the chance to visit the Temple of the Golden Buddha (Wat Traimit).  No one can resist the glitter of gold especially when it is captured charmingly in the serene statue of Buddha.  If you ever think of wondering over to Chinatown after a visit to this temple then you are in the right location indeed!  A giant red gate to commemorate the prosperity of the Thai and Chinese cultures under the ruler ship of His Majesty the King sit outside of this temple.
In case you are wondering when the best time would be to visit these temples and start with your immersion into Thai culture, the answer is at the earliest part of the day.  For anyone who might be visiting Bangkok or Thailand it is wiser never to touch the monks because this is considered to be sacrilegious.  Visiting temples may be our way of sharing respect for others beliefs even if our faith is different from theirs.  It is also a way for us to learn more about the spiritual side of those who practice Buddhism.  For some, the experience is something that they would like to have because all of their five senses are bombarded with a different kind of adventure.  Who knows, may be next time you will be drawn to come back for another visit to explore what more Bangkok has to offer.