Wat Bowonniwetwihan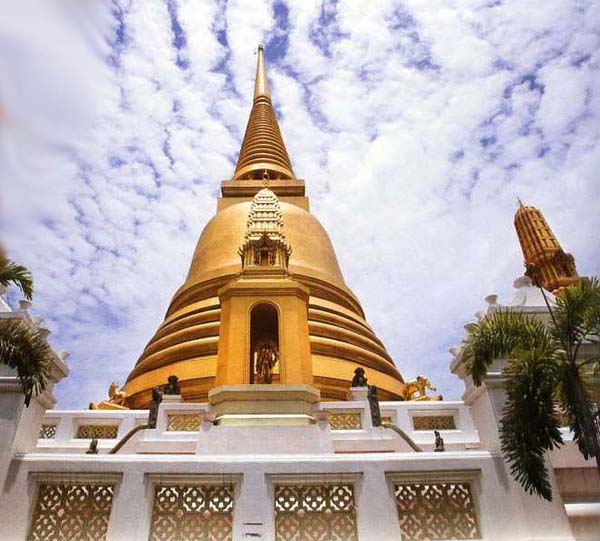 Wat Bowonniwetwihan
Bangkok
Background
During the reign of King Rama III, Prince Mahasakdiphonsep, the Viceroy ordered the construction of Wat Bowonniwet to be built between 1824-1832 and whose location was near to War Rangsi Sutthawat.  The temple was built in the area of Bowonsathan Mongkhon Palace similar to Wat Chana Songkhram and previously called Wat Mai or new temple.  King Rama III ordered Prince Mongkut (the future King Rama IV) to reside at the temple during his time he was ordained as a monk.  It was believed that King Rama IV had bestowed it with a new title as "Bowonniwetwihan".
The temple was constructed using a Thai and Chinese architectural design.  Inside the Phra Uposot or the main chapel are the two principal Buddha images.  The larger one is Phra Suwannakhet, commonly known as Luangpho To or Luangpho Phet invited from Wat Sa Taphan, Phetchaburi Province.  The smaller image is Phra Phuttha Chinnasi invited from Wat Phra Si Rattana Mahathat, Phitsanulok Province.  Kept underneath the pedestal are the ashes of King Rama VI.
Belief
The word "Bowon" from the name of the temple Bowonniwet literally means glory in Thai.  It is believed that if you have paid respect to the three Buddha images, Phra Phutta Chinnasi, Phra Si Satsada and Phra Phairi Phinat, located in the temple with 9 incense slicks and 3 lotus flowers, you will have a glorious life.  Apart from this practice, you should keep the 5 Buddhist precepts through your speech, body, and mind. The merit making will keep you peaceful and happy.  It will also encourage you to do good in the future.
How to Get There
War Bowonniwetwihan is located on Bowonniwet Road and Phra Sumen Road, Phra Nakhon District, Bangkok.  You can take bus no. 10, 12, 56, and 68.  For further details, please contact Tel. 0 2281 5052 or at "www.watbowon.com"