Wat Pho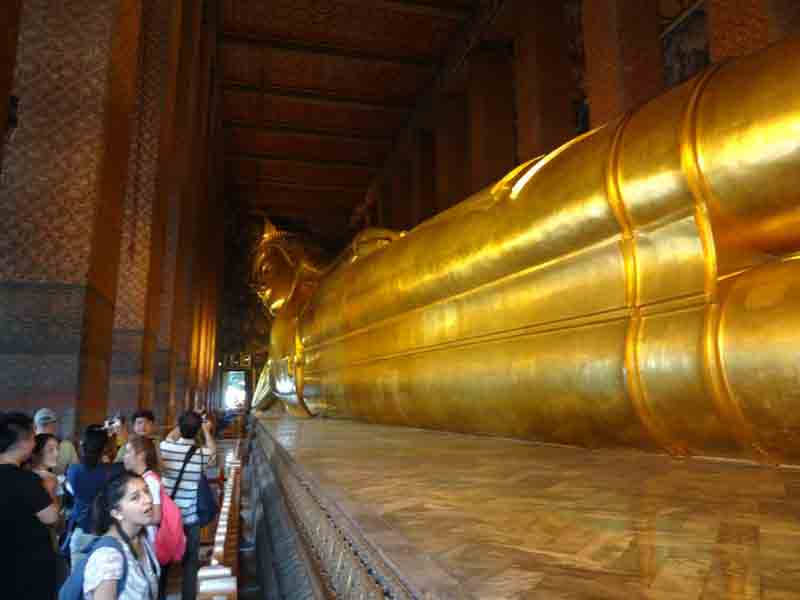 Wat Pho or Temple of the Reclining Buddha, Bangkok
Background
Having been built during the Ayutthaya Period, Wat Phra Chetuphon was previously known as "Wat Photharam or Wat Pho".  During the reign of King Rama I the Great of the Royal House of Chakri, the monastic complex was restored with a new Phra Ubosot (main chapel), Phra Rabiang (cloisters) and Phra Wihan (assembly hall) and re-established it as a royal temple with the title of Wat Phra Chetuphon Wimonmangklawat.  King Rama III managed the decorating of the surrounding walls of the Sala Rai or satellite pavilions with inscriptions from medical texts on plaques.  Although King Rama I the Great had established the temple, every King of the Royal House of Chakri saw it as one of the most important royal temples.  The restoration was conduct continuously using traditional methods.  It was also considered Thailand's first university as the temple gathered inscriptions of all knowledge pertaining to traditional medicines, history and literature.
Inside the main chapel or Phra Uposot is the principal Buddha image, depicting "Phra Phuttha Theira Patimakon" seated on a three tiered pedestal, which has underneath some ashes of King Rama I the Great.  Thailand's 4th beautiful and largest Reclining Buddha or Phra Phutthasaiyat is located in the Phra Wihan.  The sole of the statue's feet are inlaid with mother-of-pearl showing the 108 auspicious signs of the Buddha.
Belief
Thais believe that if you bring a flower garland, 9 incense sticks, 2 candles, and 11 gold leaves to pay respect to the Reclining Buddha, you will have a happy life.  The word "Pho" means Bodhi Tree.  The shade of the tree offers cooler temperatures and comfort.  This concept is also applied to the teaching of the Lord Buddha, which offers people enlightenment and happiness.
Attractions
This temple complex has 99 chedis, considered the highest number found in any temple in Thailand.  There are also 4 of the Phra Maha Stupa, each dedicated to the Chakri King including Rama I to IV.
How to Get There
Wat Phra Chetuphon Wimonmangkhlaram is located behind the Grand Palace, Sanam Chap Road, Phra Barom Maha Ratchawang, Phra Nakhon, Bangkok.  As with Wat Phra Kaeo, you can take a city bus to get there, but for a few dollars more, why not either take a taxi directly there, or join a tour which takes you to several temples all in one day?