Wat Ratchanaddaram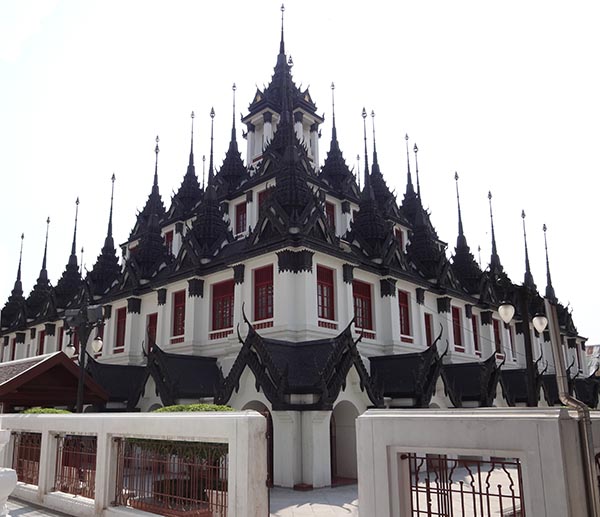 Wat Ratchanaddaram (Royal Niece)
Wat Ratchanadarram Woravihara is one of the Buddhist temples that are found in Bangkok.  It is located at the intersection between Ratchadamnoen Klang and Maha Chai Road of Phra Nakhon district.  In English it is translated as Royal Niece.  One of the things that it is best known for is its multi tiered magnificent structure (Loha Prasat – Iron Palace).  The various metal spires look similar to Russian building spires but the twist is that this one is too pointy.  This is the third brazen palace in existence and was modeled after those found in India and Sri Lanka.  The ones in India and Sri Lanka are in ruins so this is the only one of its kind in existence that is well preserved.
The old movie house that use to cover this edifice were remove in a bid to improve the view of such magnificent sceneries.  It was not long after that when the Thailand government decided to submit this building to the UNESCO for inclusion as a future World Heritage Site.  Most visitors to this site will agree that it is such a peaceful place to meditate especially for those who follow Buddhism.  Buddhist, believer or not, it is still an impressive building.
For those seeking some solitude moments away from the bedlam during peak hours visiting the main palace complex they head towards this place.  Tuk tuk drivers can take visitors to this place.  By the way it is very near the white Buddha.  The details that went into this old building has made it a must see temple when in Bangkok.  After visiting this place guests can go to the Golden Mount which will take about 10 minutes of walking.  By the way, the temple closes early so it is recommended to be there early.
A guided tour of the place is better because there is information that can be learned by doing so.  Choose between a narrated tour which charges a fee of 200 Baht and a public guided tour which is cheaper for 7 Baht.  Guests can opt to choose to ride the water taxi.  This will take them through different stops while touring several other places of interest in Bangkok which is mainly Wats or temples.  Guests raved about how this place is not crowded like its famous counterparts.  The various levels of the building have Buddha and Buddhist words of wisdom plaques on its wall.
The tower is white and black with small black towers flanking the main tower.  It looks like a castle as far as building architecture is concerned.  Restorations are made to make the temple look better. The temple maybe made of metal but it looks so beautiful.  Some of the open places can draw people who would like to take a nap in the open spaces near this temple.  Surprisingly this is not on any tour bus schedule.  Since it is gaining popularity it will not be hard to find this temple.  Visitors can ask for the assistance of police officers if ever they are lost.
The temple was made by the King for his people.  Admission is free for Thai people but for tourists, they must pay before entering the temple.  Inside the castle like temple lies an exhibit that tells about the history of the temple in both Thai and English languages. Guests can also visit the small library to learn more.  In the rooftop area one can see an impressive view of Bangkok.  As with other temples, guests are required to remove the shoes that they wear.  Female guests are asked to cover their shoulders as a form of modesty by Thai standards.
There are many corridors that look similar to a mini labyrinth.  This is actually a challenge for those who love mazes.  If afraid of getting lost or separated from others it would be nicer to stick with the tour guide and the crowd visiting the place.  Some say that it would be best to visit this place during the evening if opting for a romantic view of the place.  Just imagine visiting an exotic castle in the evening with such a magnificent view.
This Wat was built for a princess hence the majestic beauty and comparison to a modest and regal Thai royalty.  By the way there are places where visitors are not allowed to proceed like the area in the central tower with its open spiral metal staircase.  This particular tower is covered in scaffolding.  Nevertheless as mentioned earlier there are other ways of experiencing the rest of its history.  What is interesting is how the succeeding Kings of Thailand have taken the evolution of Buddhism forward to the modern age.  This is often compared to how royalties from other parts of the world who believe in Jesus Christ instead of Buddha show their belief in a practical way.
Parts of the building represent specific Thai beliefs like how pillars signify strength and other positive qualities.  The other building outside the temple has exquisite architectural design made with wood, tiles, ceramics and stained glass.  Even if the place is so beautiful, bring other things that kids will enjoy or they will get bored.  This is clearly an activity that is best suited to adults.  Remember to stay in the shade while enjoying the view.  The sun can get too hot for comfort when staying too long outside.  Even when inside the building and under the shade, guests can still enjoy the overall view of the place.
Visiting Wat Ratchanaddaram is something to write in ones mementoes.  It could be worth a few lovely pictures placed in albums for posterity's sake.  Experiencing the things seen in this trip will definitely be a good conversational topic back home.  Some say this place is magical.  Each floor opens into another place of devotion and tranquility.  A nice little kiosk offers refreshing cool drinks past the temple.  Surprisingly, free Wifi is available in that area.  It would be a nice time to post a couple of recent updates in social media sites.