Wat Saket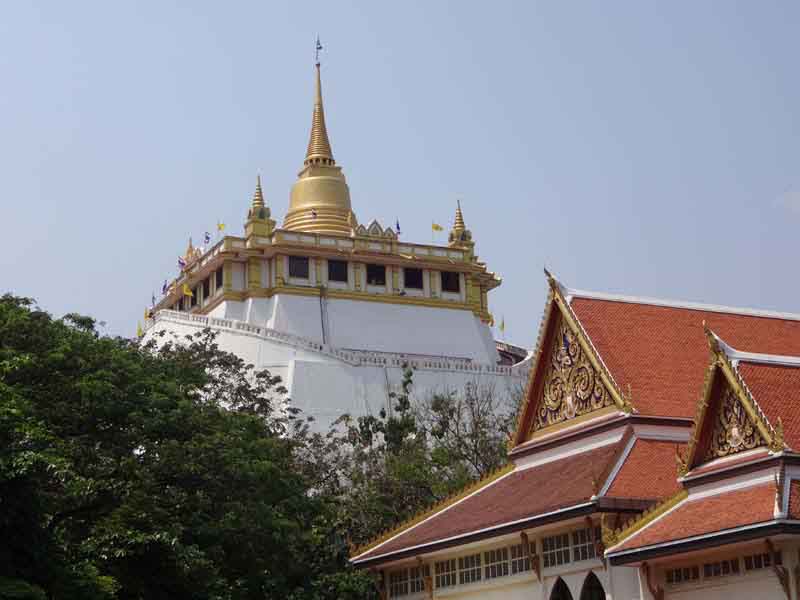 Wat Saket
The Golden Mount, Bangkok
Background
War Saket was previously named Wat Sakae and built during the Ayutthaya Period.  During the reign of King Rama I the Great of the Royal House of Chakri, the temple had been renovated and renamed as Wai Saket meaning to wash.  The name comes from when King Rama I the Great was Somdet Cheophraya Maha Kasatsuek and led his army to defeat rebels in Thon Buri toward the end of Taksin the Great's reign.  On return from the battle, he stopped at the temple to wash.
King Rama III had ordered the building of a stupa with a base of 12 redented corners (known as "Yo Mum Mai Sip Song" style).  The construction was not finished until the reign of King Rama IV who had changed the design to be a mountain-Iike shape with a Chedi on top.  The chedi was named Boromma Banphot.  The construction was fully finished during the reign of King Rama V the Great.  Inside the Boaromma Banphot are relics of the Lord Buddha.  The main chapel contains murals panted by skillful craftsmen during the reign of King Rama Ill.  The chedi is commonly known today as Phukhao Thong (or the Golden Mount).
Belief
To pay respect to Phra Boromma Banphot or the Golden Mount, you need 9 incense sticks, I candle and 3 Iotus flowers.  It is believed that after you have finished worshiping  you will be healthy.  The auspicious name of Saket means to clean off the dirt.  It is also believed to give you a stable life like the solid mountain where the Golden Mount is located.  You should also practice good deeds and meditation, as only wisdom will lead you to a purified mind.
Attractions
The Tripitaka Hall is beautiful with all windows gilded with traditional gold leaf on black lacquer or Lai Rot Nam and made during the Ayutthaya Period.
How to Get There
Wat Saket is located al Pak Khlong Mahanak, Ban Sat, Pom Prap Sattru Phai, Bangkok.  Some temple tours will include this as a stop, but most will not.  As a suggestion, if you are visiting China Town, Wat Pho or Wat Phra Kaeo – it's a short and easy taxi ride over to the Golden Mount.  When walking on these tours it's always smart to have comfortable hiking shoes.  Terrain can vary during any walk so it's a good idea to have shoes that will work in most conditions.