Wat Suthat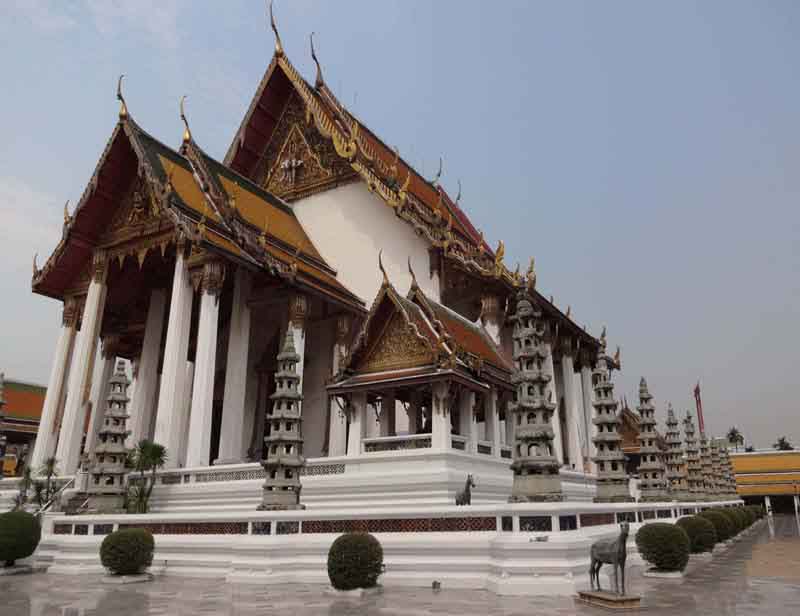 Wat Suthat Thep Wararam
Bangkok
Background
The construction of Wat Suthat Thep Wararam was commissioned by King Rama I the Great in 1807 and the temple's former name was Mahasuthawat.  A wihan, or preaching hall, was built first to house Phra Si Sakayamuni (Phra To), which was moved from Wat Mahathat in Sukhothai Province.  Phra Si Sakayamuni is larger than other bronze Buddha images in Thailand.  The reign of King Rama I the Great ended before the construction had been completed, and subsequently the temple was called by various names: such as, Wat Phra To, Wat Phra Yai or Wat Sao Chingcha.  The construction was continued by King Rama II, who himself intricately carved the wooden doors of the wihan.  During the reign of King Rama III, the construction was completed in 1847, and the temple was formally named Wat Suthat Thep Wararam.
Belief
It is believed that people pray to Buddha images in Wat Suthat Thep Wararam for charms and broad vision.  The name of Wat Suthat Thep Wararam alludes to Wat Suthasa Nakhon which is situated on Mount Meru, the centre of Tavatimsa Heaven where Indra dwells.  With reference to its nama, besides being charming, being on the top of heaven broadens one's vision.  According to Buddhist Dhamma, Metta (mercy) is true love without expecting anything in return, benevolence and goodwill.  If one has this kind of love, his/her love will be eternal.  To seek blessings, people offer 3 sticks of incense and 1 candle.
Attractions
Wat Suthat Thep Wararam is where the Monument of King Rama VIII was built with the urn of his ashes placed in front of the cloth lying across the base of Phra Si Sakayamuni.  On the ninth day of June of every year, there is a day of making merit for the late King Rama VIII on the anniversary of his death, and Wat Suthat Thep Wararam is his royal temple.
The Ubosot or ordination hall of the temple contains Phra Phuttha Trilokachet and exquisite murals.  This Ubosot is said to be the largest and longest in Thailand with the construction taking over 10 years.
How to get there
Wat Suthat Thep Wararam is located in Sao Chingcha Sub-district, Phra Nakhon District, Bangkok, across the street from the Bangkok Metropolitan Administration.  Bus routes: 10. 12, 35, and 42.  For further details, please contact at "www.watsuthat.thai2learn.com"