Wat Benchamabophit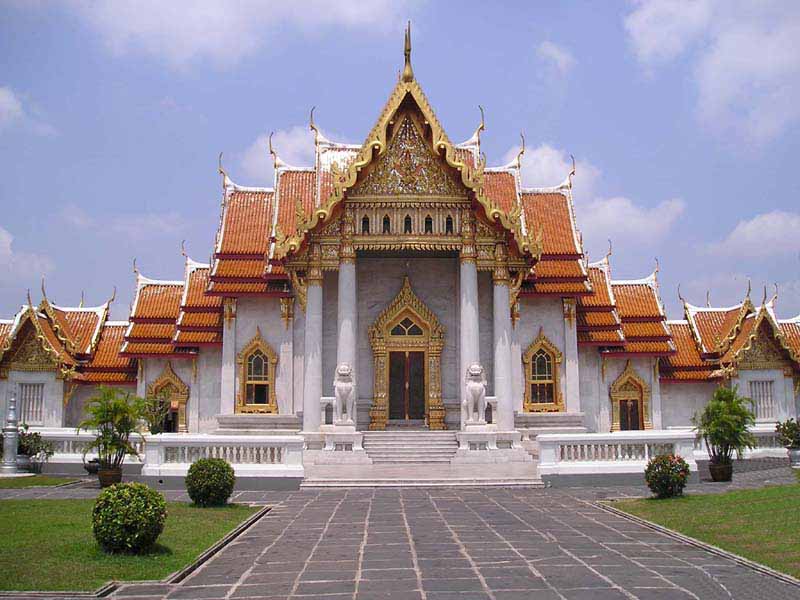 Wat Benchamabophit
The Marble Temple, Bangkok
Background
Wat Benchamabophit is most commonly known to tourists as The Marble Temple.  It's easy to see where the nick-name comes from because of the white Italian Carrara marble that was used for it's construction.  This is not a heavily visited temple by foreigners simply because it's a bit out of the area where the where most of the tour buses like to go.  I personally think it is every bit as beautiful as Wat Pho or Wat Phra Kaeo!
Built in 1899 by Prince Narai, who was the half broth to Rama V, today is famous as a learning center for Buddhist monks wishing to increase their knowledge.  Probably the most well known of the Buddhist novices to study here, was Thailand's current Monarch, His Majesty King Bhumibol Adulyadej (Rama IX).
Although there is no chedi or wihaen at Wat Benchamabophit and many of the typical structures you would see at other Wats or temples, this temple is a "must see" for Bangkok's visitors.  A European influence can be found here, not only in the Italian marble used here, but also in the stained glass windows found here.  In the main bot, or temple building, you will find a golden Sukhothai-style Buddha equal in beauty to the rest of the temple.  The Buddha, named Phra Buddhajinaraja and cast in 1920 has a blue background that is illuminated, giving it a unique look worthy of your photos!  After you pass the marble temple, you'll enter a courtyard which is surrounded by over 50 Buddha images in a cloister representing the many different styles of Buddhism.
If you're lucky during your visit to Wat Benchamabophi, you'll be able to catch one of the many festivals that are held here.  Also, a morning visit may find you enjoying the monks during their daily prayers or chanting.
How To Get There
The Marble Temple is located in the Dusit District of Bangkok.  Although it is in the city center, it's still a bit out of the way compared to the more frequently visited temples.  If your "temple tour" didn't take you there, I'd recommend a taxi to get there.  It's cheap and simple!
Most travel and Title Max title loan experts would probably agree that using a taxi in Bangkok is a safe option for getting around the city. Unlike some cities with unscrupulous drivers, all the taxis in Bangkok are metered, so passengers do not have to negotiate the fare. Just make sure the driver uses the meter for your ride