Wat Chana Songkhram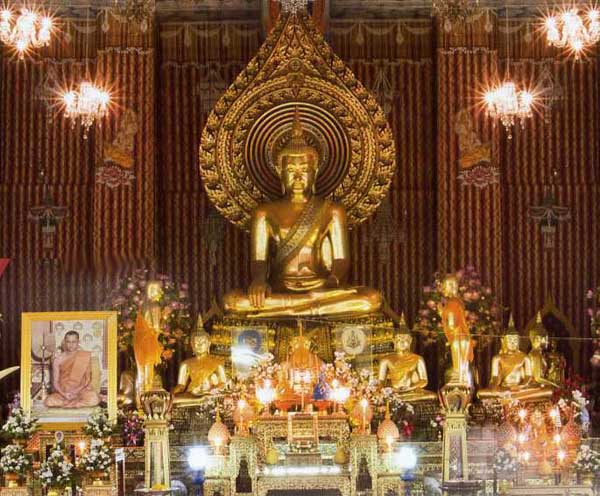 Wat Chana Songkhram
Bangkok
Background
Wat Chana Songkhram, or previously known as "Wat Klang Na", is an Ayutthaya period temple, the construction of which was not documented.  King Rama I the Great appointed a Mon group of monks to look after the temple so it became known in the Mon language as Wat Tong Pu, similar to a temple of the same name in Ayutthaya.  This was  in honor of Mon soldiers in the Thai regiment led by Prince Maha Surasinghanat, Viceroy of King Rama I. for their important role in victory in the battle of the Nine Armies in 1785. the Battle of Tha Din Daeng and Sam Sop in 1786 and the Lampang Pa Sang Battle in 1787.
The temple was restored by Prince Maha Surasinghanat and later assigned as a royal temple.  A new name "Wat Chana Songkhram" was conferred by King Rama I the Great to commemorate the victory of the Viceroy in three battles against the Burmese.
Belief
There is a belief that worshiping the presiding Buddha image in the Ubosot, the Buddha statue in the position of Subduing Mara and the statue of Prince Maha Surasinghanat for his victory in the Nine Armies Battle bringing peace to the country, thus the meaning of the name "Wat Chana Songkhram", will help worshipers overcome all their difficulties and will bring all kinds of achievements.  In Buddhist teachings, it is better to conquer yourself than to win a thousand battles.  When you conquer yourself, all sufferings and problems will be easily overcome.
How to get there
Wat Chana Songkhram is located on Chakkraphong Road, Bang Lamphu Sub-district, Phra Nakhon District.  Take bus no. 33, 64, 65 or air-conditioned bus no. 3. 32. 33. 64, and 65.  For further details, please contact Tel. 0 22818244.