Wat Phra Si Mahathat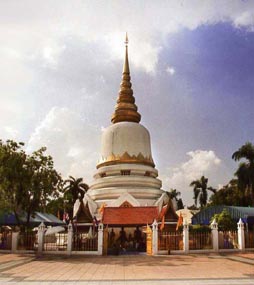 Wat Phra Si Mahathat
Bangkok
Background
Wat Phra Si Mahathat was built when Field Marshal Plaek Pibulsongkram was Prime Minister.  The Cabinet had agreed to build and name it as Democracy Temple.  During the construction, Rear Admiral Thawal Thamrong Navaswadhi went to India to ask for the Lord Buddha's relics, five branches of the Bhodi and some soil from the place where the Lord Buddha attained his enlightenment to keep in this temple.  Hence, the temple was later named as Wat Phra Si Mahathat.
The significant architecture is Phra Chedi Si Mahathat.  There is a small chedi keeping the Lord Buddha's relics.  All along the wall are small spaces for keeping the ashes of benevolent people who have done good for the country.  The principal Buddha image, Phra Si Samphutthamuni in the subduing Mara gesture built during the Sukhothai Period is located in the main chapel.  The image was invited from Bowonsathan Mongkhon Palace or the Front Palace.
Belief
The temple is the origin of the well-known amulet, Phra Kring Saeng Chan or Phra Kring Thung Bang Khen made in 1969.  All the monks who attended the cast ceremony were highly venerable and renowned for their practice of Kammatthana meditation.  Later, the two Buddha images, Phra Saeng Chan Than Chai (or moon wishing) no Phra Saeng Athit Than Chit (or sun wishing) were cast for the general public to worship.  It is believed that a sacred Buddha image needs to have glorious power from the Lord Buddha.  Dhamma, the monks, the Moon and the Sun.  Apart from those two images, there is another called, Maha Setthi Nawakot.
All three images are well known as Luangpho Setthi Kao Na Than Chit Than Chai.  The name indicates that if you worship the three images altogether, you will become wealthy with a quick wish.  To pay respect to those images, you need a set of flowers, candle and incense offered at the temple.  In order to make your wish come true, you also need to practice the general principles of all Buddhists including faith, Buddhist precepts, donation, and wisdom.  If you practice well, it will fulfill your hope.
How to Get There
Wat Phra Si Mahathat is located on Phahonyothin Road at Km. 18, Anusawari, Bang Khen, Bangkok.  Follow Phationyothin Road, you will see the temple opposite the Infantry Division 11 – The Royal Thai Army and near to the bus terminal station and Anusawari Bang Khen Circle.  Take bus no. 26, 29, 34, 59, 63, 95, 107, 114, 126, 129, 185, 503, 520, 522, and 543.  For further details, please contact Tel. 0 2521 7300 or at "www.watphrasri.com".