Wat Phra Kaeo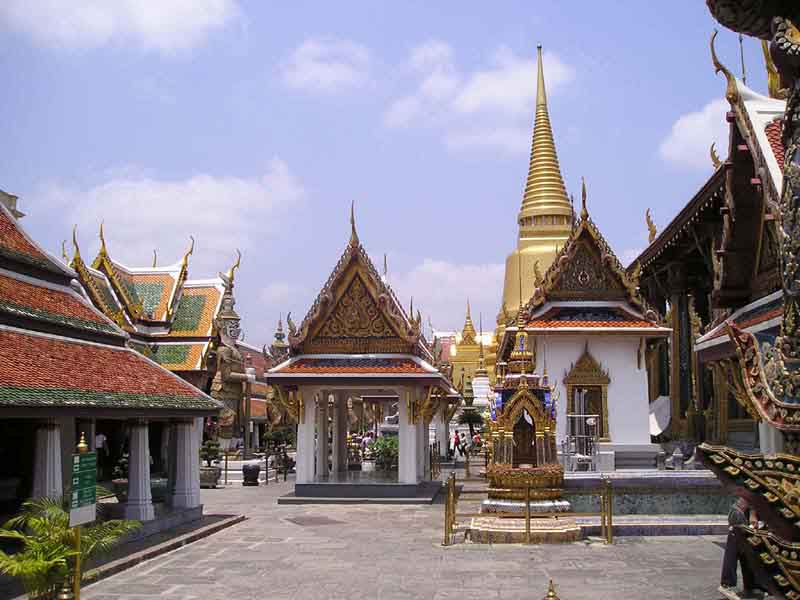 Wat Phra Si Rattana Satsadaram
(Temple of the Emerald Buddha), Bangkok
Background
Wat Phra Si Rattana Satsadaram, commonly known as "Wat Phra Kaeo", is a royal temple of national significance and a major tourist attraction of Thailand. The temple was consecrated in 1792 during the reign of King Rama I the Great to house the statue of the Emerald Buddha and to serve as a venue for the performance of the royal ceremony of making merit. The temple compound consists only of a Phutthawat area (the area dedicated to Buddha) so there are no living quarters for monks.
Belief
There is a belief that worshiping "Phra Phuttha Maha Mani Rattana Ptlimakon or the Emerald Buddha", the sacred protector of Thai people, will bring good luck and make your wish come true. The name of the Emerald Buddha "Phra Phuttha Maha Mani Rattana Patimakon: signifies a gem of three wishes that can bring success to work and good fortune. In Buddhist teachings, in addition to worshiping the Buddha statue and making a wish, a person needs to observe and practice precepts in order for the wish to come true.
Attractions
Ubosol or the assembly hall houses Phra Phuttha Maha Mani Rattana Patimakon or the statue of the Emerald Buddha, the palladium of the Thai people. Once you enter the precinct. you will enjoy the sense of peace and serenity as you are surrounded by elegant architecture with elaborate decorations. Other major attractions include the compound walls decorated with the world's most beautiful and the longest Thai murals depicting the Indian epic of the Ramayana, salas or open pavilions, Ho Phra Ratchakoramanuson or Phra Ratchakoramanuson Shrine, Ho Phra Ratchaphongsanuson or Phra Ratchaphongsanuson Shrine, Ho Phra Khanthararat or Phra Khanthararat Shrine, Mandapa (a specific square or cruciform based building). the Royal Pantheon, Phra Si Rattana Chedi and the giant demons guarding the entrance.
How to get there
Wat Phra Si Rattana Satsadaram is located in the center of Bangkok on Na Phra Lan Road, Sanam Luang, in the Phra Nakhon District. You can get there by bus,but I'm sure your time is more valuable than sitting on a city bus. There are daily tours there from virtually every hotel in the city. Wat Pho (Temple of the Reclining Buddha) is next to Wat Phra Kaeo and the Grand Palace is in the same complex, so these would be a good "set" of places to take in during one trip.
If you like to read more about the history of Wat Phra Kaeo – The Temple of the Emerald Buddha.